Instagram is one of the widely used social media apps, and as such, it draws in a large number of users who want to share photos or upload images using this app.
Several reasons can motivate people to want to hack the Instagram account of another user.
Can you access an Instagram account without the user's password?
How well do you know the ins and outs of keeping your Instagram account safe?
It's possible, though, that you'd like to hack an Instagram account for reasons that are quite reasonable. Instagram accounts can, and frequently are, hijacked.
Here, you'll find information regarding programs and ways that can help you hack an Instagram account.
First, though, let's take a look at the most common motivations for wanting to break into Instagram accounts.
Why Hack An Instagram Account?
To See What Your Child Is Doing On Instagram
It should come as no surprise to parents that they wish to monitor their kid's use of Instagram, as it is currently one of the most prominent social media platforms used by youngsters today.
Frequently, children are reluctant to let their parents know what they're up to on Instagram because of their natural tendency toward secrecy.
Unless a parent covertly accesses or hacks their kid's account, they will be completely in the dark about what their youngster is up to on Instagram.
It is something that needs to be done, particularly if the kid is the target of criminals or online harassment.
To See If Your Spouse Is Instagram Cheating
It's become much easier for cheating partners to hide their activities on social media.
Instagram is one example of a social media network that users might use to communicate covertly with their hidden partners.
Accessing these secret conversations may require hacking your spouse's Instagram account.
To Keep An Eye On Your Employee
Have a worker that can't put down their phone?
Check in on your social media expert to ensure they're pulling their weight. Observing their Instagram posts could be a good idea, then.
On the other hand, a legitimate employee monitoring tool is a much more effective approach to keeping tabs on workers without resorting to hacking.
To Steal Personal Information
While we certainly don't support the practice of hacking accounts for evil purposes, we felt it was important to alert you to this particular vulnerability.
All too frequently, news reports detail hacked accounts and the contents stolen.
Identity and financial theft are just two of the many ways that information is obtained from accounts, such as Instagram.
Is It Possible To Hack Into Someone's Instagram Profile?
Let's talk about whether or not hacking into someone else's Instagram account is even conceivable before we get into the meat of the piece.
As far as social media apps go, Instagram is among the safest.
Thanks to features like two-factor authentication, it is now extremely difficult to stealthily access a user's account.
Even yet, that doesn't mean you can't break into someone's Instagram account without getting caught.
You can simply access someone else's Instagram page using a few different methods and Instagram hack tools, even if you don't know their passwords or username or have physical access to their phone.
We'll go over the top Instagram hacking app and other options you have.
xMobi – The Best App To Hack Someone's Instagram Account
xMobi is an Android and iOS tool that can keep tabs on your phone or tablet. All target device activity may be monitored with ease.
It's widely used because it requires no effort to set up and navigate the accompanying mobile app.
xMobi is one of the best tools that can be used to hack someone's Instagram account. Keep on reading to know how it works.
If you want to keep an eye on your kids for less than a dollar a day, xMobi is a reliable option.
In addition, it keeps you up to date in real-time with everything that happens on the device of interest.
There are upgrades every 5 minutes. The app may be quickly and easily set up.
Ease To Use
No technical knowledge is required to set up a simple monitoring system for the user's intended device.
It's not rocket science; all you need to do is put in a little time and effort.
Agile System
The xMobi app's framework is extremely flexible. xMobi's method for hacking and monitoring is innovative and effective.
You won't have to worry about missing out on features because you didn't download the right program or read through a dense user guide.
Secure System
The xMobi is that all of your data is secure and private while you use it, owing to robust encryption technology and careful attention to user privacy.
Nothing about the tracking of the gadget may give any kind of clue to the target.
How To Hack Instagram Account With xMobi
Step 1: Create an Account
Selecting the device to be tracked is the primary step.
Many different subscription options will be presented to you. Proceed to the next step, making a purchase.
You receive the file with the installation guide in the email, so check it regularly. See to it that you're strictly adhering to those guidelines.
Step 2: Install And Setup
The next phase involves getting the app onto the Android device in question by downloading it.
You'll need to supply your iCloud credentials if the gadget in question is an iOS device. Few configurations are required.
Step 3: Use KeyLogger
After you've finished the above procedures, you may access your user account and begin monitoring and operating the target phone.
The target's Instagram and other social media profiles can be hacked using tools like a keylogger to access their passwords.
It's possible to gain access to someone else's Instagram account by using the keylogger function of xMobi for mobile devices.
Their passwords and everything else they type on their phones can be recorded with Keylogger.
You may hack Instagram and obtain login information and passwords by taking advantage of this feature.
You are also able to quickly monitor actions on Instagram using xMobi, such as monitoring images, videos, and Instagram stories.
This is one of the many functions that xMobi offers.
Pricing
In addition, xMobi provides a variety of subscription plans, each of which comes packed with a variety of useful features.
The cost for both Android and iOS devices is the same. xMobi is available for $49.99 monthly for subscribers.
If you sign up for a yearly plan, though, your monthly cost drops to just $11.66.
Alternatives to xMobi to Hack Instagram Accounts
Instagram hacking occurs for various reasons, some of which have already been mentioned. It's possible to pull a joke on someone without causing any harm.
On the other hand, innocent people may be harmed by hacking attempts that are not allowed.
When it comes to spying on Instagram accounts in an official capacity, there are various xMobi replacement programs accessible.
The ones that are discussed below are examples of those.
Using its monitoring and hacking features, EyeZy is a cutting-edge app designed perfectly for every user.
Your family will be able to feel secure and safe at all times thanks to the presence of a security system that is also capable of monitoring activity.
It can be used on many different systems. It is possible to conduct surveillance in secret if the user being monitored is unaware that they are being observed.
Costing less than a dollar a day, it's very affordable. The software's intuitive design makes it easy to pick up and use right away.
You can start the program, install it, and provide whatever prerequisites you need to hack an Instagram profile.
To hack Instagram, you just only input your email account and buy the appropriate plan, then install the EyeZy app on the cellphone of the intended victim.
It is an iOS and Android app that can be used to get unauthorized access to Instagram accounts.
You can even access the date and time of just about every text they have sent and received, which once again demonstrates that you can trace an Instagram account right down to the smallest details.
Why Choose EyeZy Instagram Password Hacker App
It's a fully-featured Instagram hacking app.
Easy and trustworthy user interface.
It works fine with both Android and iOS.
Pricing
The EyeZy app has monthly, quarterly, and annually renewable subscription plans.
The monthly fee of the EyeZy app is $68.56, dropping to $39.98 for a three-month membership and dropping to $14.27 for a full year.
There is no free option; however, considering the number of things you gain, the pricing is fair.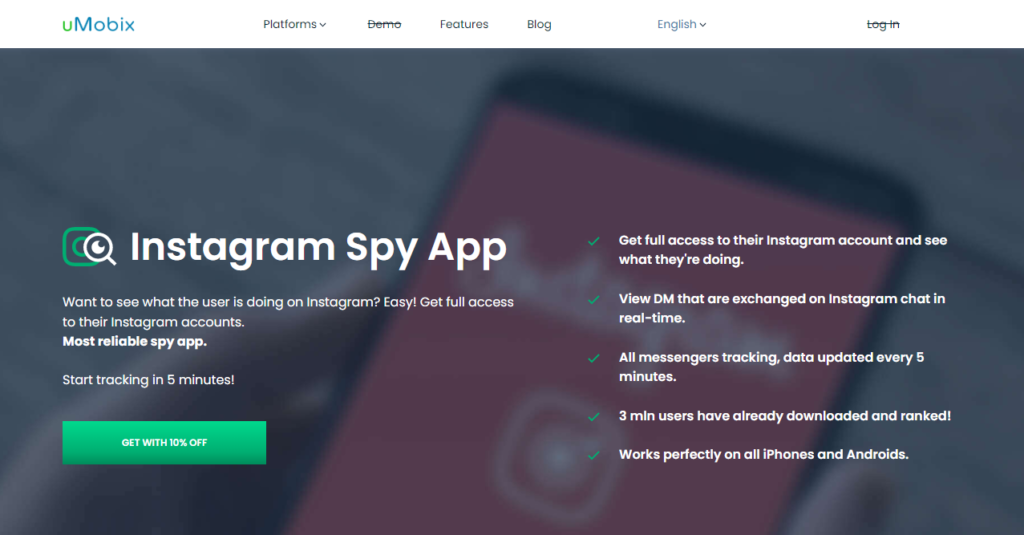 You can keep tabs on your kids or employees in real-time with uMobix, mobile software that tracks their whereabouts.
As a result of the great tracking tools it possesses, it is the tool of choice for successfully breaking into the target's Instagram account.
Both iOS and Android users can download the software.
Although it is tracking software that can keep tabs on over 30 different apps and social networking sites, it can help you easily get into someone's Instagram account without letting them know.
Concerned parents can rest easy knowing their children are safer thanks to the monitoring software.
To use the monitoring app, you do not need any prior experience or knowledge of technology. Setting it up is simple and just takes a few minutes.
You will receive updates regularly (every 5 minutes, to be exact), ensuring you do not overlook any significant information once the app is installed and operational.
The monitoring app is simple to use on both Android and iOS devices.
Here are the installation steps:
Create an account on the main site. Select a subscription plan from the options provided and checkout. You can expect to see the setup instructions for the app in your account.
You need to follow the account-specific instructions to install the app on the desired device.
Get your account set up to receive data from the intended gadget.
uMobix Keylogger
Many surveillance apps promise that they feature working keyloggers; however, in practice, these keyloggers don't always perform as they should.
Sometimes, they might only capture part of a person's keystrokes (in this case, Instagram login and password). The uMobix keylogger worked fairly well.
That so, it did occasionally use some vague phrases. Its ability to record keystrokes, however, was adequate.
It may be able to log every single key pressed on the compromised device. Even information transferred to the clipboard is not safe.
The same logic applies to obtaining credentials such as user names and passwords.
Moreover, activating the notification will send you updates about anything that happens on the targeted device.
Compatibility
uMobix asserts that it works with all Android and iOS devices.
They additionally offer a tool on their website that enables you to tell them the version of your smartphone and promptly confirm whether or not it is functional with the program.
This is provided in the event that you do not feel comfortable with your ability to use the tool.
Plans & Price
The app provides four different plans, the main difference between them being the duration of the subscription rather than the features included.
From $39.99/mo. to $89.98/yr. What is the price range?
Hoverwatch is a breeze to set up for those who own an Android handset and is functional with nearly all Android smartphones.
It has features like auto-updates and the ability to snoop on and hack Instagram accounts.
It can monitor your text messages, emails, and phone calls, as well as your whereabouts using GPS, record your calls, listen in on conversations in the surrounding area, monitor your cameras, record your web activity, access your media files, and even access your contacts. It can even hack WhatsApp.
How Does It Work?
An advanced surveillance program that can be used to crack Instagram accounts. The app's Keylogger feature can be used to steal someone else's Instagram credentials.
You can use it with your iPhone or Android device.
To begin hacking passwords, you must first register and activate the appropriate software. Once you have access, you can utilize a keylogger to break into Instagram accounts.
How To Use Hoverwatch
Hoverwatch's user interface makes its operation simple:
Make use of a free account by signing up for one.
To use the Hoverwatch app, you must first download it to the phone you wish to monitor.
Initiate a review of the content uncovered by Hoverwatch.
It's worth noting that most Android devices are compatible with Hoverwatch.
Hoverwatch is compatible with smartphones running Android 3.0 or later, though you may get the most out of its features and find it easiest to use on a more recent version of Android.
When using Hoverwatch to monitor a target's device, you shouldn't have trouble accessing Instagram data.
Pricing
Hoverwatch offers a Personal package for people who need to keep tabs on their children or partner.
The price of this plan is $24.95 per month, although there are savings for prepaying for longer periods.
For either 3 or 12 months of access, the price is $59.95 and $99.95, respectively.
The full suite of surveillance functions is at your disposal, and you may log in from any smartphone.
However, you will only be able to track a single target cellphone.
mSpy is a social media hacking app that can also be used as an Instagram parenting control system.
It can crack Instagram passwords and track locations, calls, texts, and websites visited.
It is a comprehensive parental surveillance and monitoring tool with a robust control panel that lets you hack and monitor the targeted system virtually.
Using the Keylogger feature, you may quickly access private information on any user's Instagram account. It's also a solid option for Apple gadgets.
This program is an effective method for breaking into Instagram accounts because of its intuitive design and straightforward controls.
Numerous people have tried various surveillance applications for Instagram, TikTok etc, but mSpy is one of the most popular and effective.
This software is one of the best features available since it allows users to track their Instagram activity on both iOS and Android smartphones.
This capability is one of the app's top features.
How Does It Work?
Step 1: Navigate to mspy.com and buy the program bundle of your choice.
Step 2: you'll receive a confirmation email from the program with your username and password.
Step 3: check out the Mspy Demo to see how the program operates.
Step 4: After the app has been installed on the targeted system, you can access it using the device's admin dashboard.
Step 5: Check your Instagram account for new messages and photographs.
Step 6: Keep tabs on the Instagram account in secret by using the keylogging function. Log on to Instagram on the user's device using the target's login details once you have it.
Pricing
MSpy's monthly fees are quite high at $49 for the first month and $70 for subsequent months. If you're wondering how many gadgets protect, the answer is "a lot." That's it; only one.
Savings are significantly increased when a lengthier contract is signed.
The yearly plan is $11.66 per month for the first year and increases to $16.66 per month upon renewal, while the three-month package is $28 per month for the initial term and $40 upon regeneration.
5. iKeyMonitor
You can keep tabs on what people are up to on Instagram with the assistance of iKeyMonitor, an app that acts as a hacker.
Only jailbroken smartphones may take advantage of this function, and you'll need to remove any virus protection from the target phone before installing iKeyMonitor.
Ease Of Use
This surveillance program is not exactly child's play to operate. You require some technical knowledge to set up the app. It is one of the main drawbacks of this app.
If you're not satisfied with the performance of your particular gadget, you have 30 days to request a refund.
Many users will be happy to learn that the surveillance program can be downloaded from a reputable source like the App Store or Google Play.
Durability
iKeyMonitor has not reported any major data breaches for a very long time.
Even if you have the owner's permission to log their phone's data, it doesn't ensure it's private between you and them.
It can capture keystrokes and take screenshots of Instagram conversations and media to create an activity log.
iKeyMonitor keeps tabs on your Instagram account from every angle, allowing you to maintain complete command at all times.
Here are the measures you should take:
Step 1: Pick a plan and subscribe at ikeymonitor.com.
Step 2: Select your gadget type, then click the "Yes, I can get the phone in my hand" button and fill out the form that appears.
Step 3: Once you have signed up, double-check your email. Ikeymonitor will send you an email similar to this.
Step 4: Launch the ikeyMonitor window once again and sign in. While you wait, the dashboard will load and appear like the image below.
Step 5: Use the window provided below for the download and install the ikeymonitor software onto the target phone. If you want to know how to do something, here's how.
Step 6: Once the software has been downloaded and installed on the target device, the dashboard can show logs online.
In addition, you can import information from other programs.
Pricing
There are two iKeyMonitor packages available. The first is the Free plan, which has no associated expenses.
However, fewer options are available in the subscription trial than in the subscription plan.
The second option, "Paid," will price you $29.16 monthly. You'll be able to use every function of the program there is.
iKeyMonitor does not cost anything. Nonetheless, the free edition only provides the bare minimum of features, which may not be sufficient to fully monitor your loved one's whereabouts and activities.
6. InstaLeak
Next on our list is InstaLeak. You can use Instaleak to break into the Instagram profile of anyone you choose, whether they're your girlfriend or boyfriend, wife or husband.
InstaLeak is not only simple to use but also free.
How To Use InstaLeak?
Simple stick to the instructions below.
Fill The Victims Username Field
Type the victim's username into the form and hit the check button. Visit the victim's Instagram account and copy the final portion of the URL; this will serve as the username.
Verifying The Instagram Username
To begin verifying your inputted account, select the confirm button. If the profile is invalid or dead, you will see an error message; otherwise, you'll be directed to the hacking procedure's next page. All left to do at that point is allow the procedure to complete.
Hacking Process Successful
If you could hack an account and get the message "Hacking Process Successful," anything went smoothly. The victim's Instagram username and password have been saved in an a.txt file, which you can now download. How's that for a simple solution? Select the "Start" button up top to immediately begin hacking.
Safe And Secure
InstaLeak.net employs the most cutting-edge authentication methods currently available, including triple-layered guaranteed comprehensive counter-hacking methods.
No Software Download
Yes, even young children can now hack Instagram accounts because there's no longer any need for special software.
We promise that the InstaLeak technology will not be difficult for you to understand.
Pricing
Every one of their users can use InstaLeak.net without spending a dime.
You mustn't get caught buying someone to breach your Instagram profile since the hackers who are recruited to do so are likely utilizing our platform to steal sensitive information and then resell it to those who are defenceless.
How To Prevent Your Instagram From Being Hacked
You are aware of the potential risks associated with a hacking attempt on your account, but there are various steps you may take to mitigate those risks and secure yourself.
Request A Login Link From Instagram
Two-factor authentication can be achieved by requesting a login link. Instagram will gladly provide you with a fresh login link if you contact them directly.
You can modify your password when you view the email and follow the link. After that, you can rest assured that all previous users of your profile will be permanently erased.
Since they won't have your old password, hackers will have to start from scratch to crack your new one.
Consequently, at this stage, the vast majority of them would simply move on to another account.
Request A Security Code Or Support From Instagram
You can also have Instagram send you a verification code via email. You'll be asked to input the code when you open the email and select the link.
When that's done, you'll be able to modify your password and sign in with it.
Verify Your Identity
Instagram gives you the option to request verification of your identity. To verify your identity, please provide both your full address and a valid photo ID, such as a driver's license.
A hacker will be unable to access your account and will be booted off since they do not have the necessary documentation.
Final Thoughts
In this article, we looked at how to hack someone's Instagram account and view the posts that are on Instagram.
You should now be familiar with the most effective methods for hacking an Instagram account.
The use of a phone spy app or Instagram hack tool is recommended if you wish to hack without having physical access to the target device. 
When used as an all-in-one monitoring platform, the uMobi app may also be quite simple and intuitive, which is ideal for first-time users.
xMobi offers a simple and quick way to get into an Instagram account and see what they are posting and to whom they are sending DMs.